By Harden Custom Homes 16 Sep 2018
Let's face it, second only to the kitchen your bedroom is the most important place in your home. It's your sanctuary where you can relax, unwind, and slumber in peace away from the ringing phone, beeping text messages, and the stress of the day.
The Master bedroom needs to be comfortable and designed around the way you live. Consider first the space you may need and why.
Do you need lots of closet space? Two closets (his and hers) perhaps? Or would you be ok with just one and sharing?
Do you need a reading area or a desk area for work?
If you choose to have a TV in the bedroom will it need a stand or be wall mounted to save room?
Take a good look at your furniture or the pieces you are considering buying. Lay them out and figure out how much room they take up and how much walking space and extra area you would like to have.
Would there be a setting area - to put on makeup and get ready or will that be in the master bath section of the house?
Windows are a huge consideration. How many, what size, and of course placement - make sure to take into account your view and other homes surrounding.
Flooring selection is important as well. Hardwood, tile, carpet, padding, throw rugs, so many choices.
Lighting in a bedroom is tricky. You, of course, need overhead lighting which is to be your omnidirectional general lighting, but what about reading and night time and mood? - Bedside lamps are a great choice as are wall sconces. If you have a reading area specified, a reading lamp is a great addition. Make sure to decide where these go ahead of time so the electric can be wired properly and you don't need to pull wires that are visible all over the room just to reach a plug.
If you would like to build a home here in the Southwest Florida area you have landed on the right blog. Our experts have well over 40 years in the business and a great reputation for a reason - happy homeowners. We take every detail into consideration when working with you.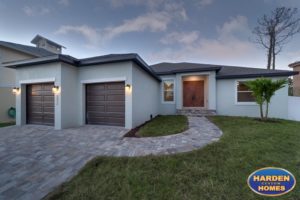 Give us a call today or come visit our sales center and chat with us in person. We would love to meet you. 239-205-5075. Or visit us online at www.hardencustomhomes.com.