By Harden Custom Homes 30 Mar 2020
Building a new home is exciting. You get to imagine all the things you have ever seen or had and loved about a home all integrated into one space. Your space.
Pool homes are particularly desirable in Florida due to the hot humid tropical weather and extended summers where swimming is an integral activity. In 2020 pools aren't at all what they used to be. I think most of us can remember going swimming as kids in our, our friends, and neighbors pools, they were smaller, nearly always square, and as exotic as it got was to have a slide. Many pools of the past were pop up above ground temporary pools as well.
Pools these days have taken on the feel of a resort. Should you include an in-ground pool as part of the design of your new custom home, we wanted to offer you information on a few new design trends to consider.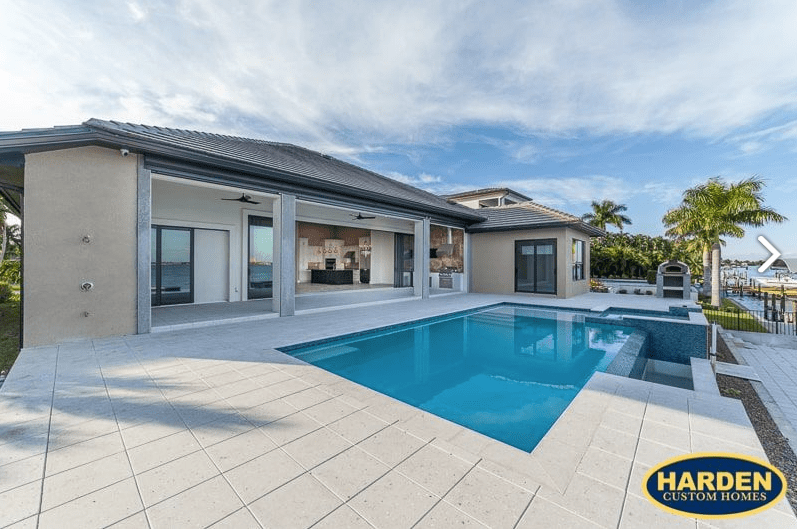 Vanishing Edge Pools: When the level of the water in a pool meets the pool deck at the same level. This concept was originally referred to as a knifes edge pool, as it referred to the sharp edge line between the pool and deck where the water flowed over a small slot on the edge creating a mirror-like effect. These are beautiful anywhere but if you have a waterfront home they are very striking.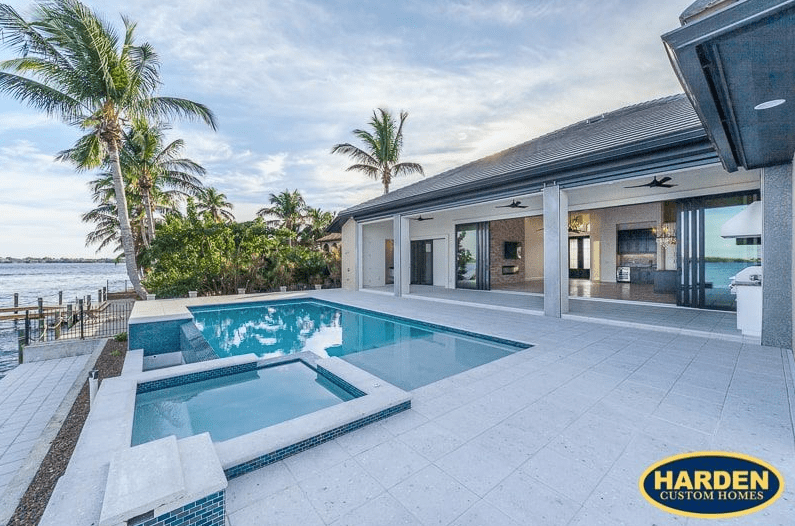 A Baja Ledge: A Baja ledge is a shallow lounging area that adjoins the pool as a built-in add on.
The area in the Baja Ledge is usually shallow, only a foot or so in-depth. This allows you to place lounge chairs and even umbrella tables in the water for a truly lovely afternoon in the Florida sun.
Water Features: Water features are eye-catching and make a statement. They are easily made the center focus of the outdoor space. Waterfalls, rock cascades, dancing fountains, they can even divide up a space into different relaxation areas, sealing off the hot tub or sauna from view. Waterfalls come in an array of styles - trickling, cascade, and sheer sheets, all have a different sound helping to add to the atmosphere.
LED Lighting: LED lighting is a huge lighting trend - they have become far more reasonably priced in recent years and are now being used for every room in the home and even the patio. They use less energy than incandescent lighting, and they can come in many colors, even changeable colors from the same source. Some of these lights are programmable and can be set up to change color over the course of the day or night to suit whatever effects you want to create.
Creating your very own pool home, especially in southwest Florida, can be a wonderful experience leaving you with a beautiful uniquely ideal home. Advancements in technology, once only found at high-end resorts can now be found right in your back yard.
Here at Harden Custom Homes have been building in Southwest Florida for over 40 years now. We know the area well and can help you not only build the home of your dreams to your exact specifications at a price you will love but help you locate the perfect lot. Talk with us today!
Give us a call at 239-205-5075 or if you would rather text you may text messages to 239-900-0685 or visit www.hardencustomhomes.com or if you have the time we would love to talk with you in person. Our corporate showroom is located at 5782 Enterprise Pkwy Fort Myers, FL 33905.